Maslinovo ulje je jedan od najjačih prirodnih antioksidanasa. Koristi se hiljadama godina za lepši izgled, britkiji um i duži život. Ekstra devičansko maslinovo ulje sadrži vitamine A, D, K i E koji pomažu u borbi protiv slobodnih radikala i oksidacije ćelija. Slobodni radikali i oksidacija ćelija dovodi do prevremenog starenja. Pored toga što ima hidratantno svojstvo, maslinovo ulje ima i regenerativno svojstvo na koži.
L'huile d'olive est un des plus puissant antioxydants naturels. Il est utilisé depuis des millénaires pour un plus bel aspect, un esprit acéré et une longévité accrue. L'huile d'olive vierge contient de la vitamine A, D, K et E qui aide à lutter contre les radicaux libres et l'oxydation des cellules. Les radicaux libres et l'oxydation des cellules contribuent au vieillissement prématuré.
Olive oil is one of the most powerful natural antioxidant. It is used for thousands of years to have a good look, a sharp mind and a long lasting life. Virgin olive oil contains vitamin A, D, K and E which help fighting free radicals and cellular oxidation. Free radicals and cellular oxidation lead to a premature aging.
Maslinovo ulje je poznato čovečanstvu punih 5000 godina!!! Korisnici Ajurvede, drevne indijske metode lečenja, znaju da se maslinovo ulje koristi sa ciljem poboljšanja zdravlja.
L'huile d'olive est connue de l'humanité depuis 5000 ans!!! Les utilisateurs de l'ayurvéda, ancienne médecine traditionnelle indienne, savent que l'huile d'olive s'utilise dans le but d'améliorer la santé.
Olive oil is known to mankind for 5000 years!!! Users of Ayurveda, an antique Indian healing method, know that olive oil is used with the goal to improve health.
U drevnoj Indiji, maslinovo ulje se koristilo za pranje usta. Ujutru je dobro uzeti kašiku maslinovog ulja i mućkati u usnoj duplji 15-tak minuta. Kažu da na taj način možemo sprečiti mnoge bolesti, upalne procese i poboljšati sveopšte stanje organizma.
En Inde, dans l'antiquité, l'huile d'olive était utilisé pour laver la bouche. Il est bon de prendre le matin une cuillère à soupe d'huile d'olive et remuer dans la bouche une quinzaine de minutes. Il parait que de cette façon on peut prévenir de nombreuses maladies, des inflammations et améliorer l'état général de l'organisme.
In ancient India, olive oil was used as a mouth wash. It is recommended to take a soup spoon of olive oil in the morning and to wash your mouth for 15 minutes. It is said that way we can prevent many diseases, inflammatory processes and improve the general state of our body.
Minojske lepotice su bile posebne po mnogo čemu. Njihova civilizacija je odisala lepotom i slobodom uma i tela. Položaj koji su zauzimale žene u civilizaciji Minoja, jedinstven je i jedini u svetu. Ove drevne lepotice su znale tajnu formulu lepe kože. Ako pogledate freske koje pripadaju ovoj civilizaciji, primetićete da su muškarce oslikavali nijansom crvene boje, a da su žene naslikane belom bojom. Primer su dve najčuvenije freske: "Princ sa ljiljanima" i "Mala Parižanka". Muškarcima je očigledno bilo dozvoljeno da imaju preplanulu kožu, dok se lepa i negovana koža kod žena smatrala samo ako je bila bela, sveža i blistava. Ne zaboravimo činjenicu da je Krit najveće i najjužnije grčko ostrvo sa najvećim brojem sunčanih dana u godini. Zadatak ovih žena da imaju belu put, moraćete priznati, nije bio ni najmanje lak.
Les beautés minoennes étaient particulières en beaucoup d'aspects. Leur civilisation respirait la beauté et la liberté du corps et de l'esprit. La place qu'occupaient les femmes dans la civilisation minoenne était particulière et unique au monde. Ces beautés antiques connaissaient la formule secrète d'une belle peau. Si vous regardez les fresques de cette civilisation vous remarquerez que les hommes étaient peint dans une nuance rouge alors que les femmes étaient peintes en blanc. Comme exemple nous avons les deux fresques les plus connues: «Le prince aux fleurs de lys» et «La Parisienne». Les hommes pouvaient avoir la peau bronzée alors que la peau chez les femmes n'était considérée comme belle et entretenue que si elle était blanche, fraiche et brillante. N'oublions pas que la crète est la plus grande île grecque et la plus au sud avec le plus grand nombre de jours d'ensoleillement durant l'année. La mission de ces femmes pour garder le teint blanc, vous l'avouerez, n'était pas évidente du tout.
Minoan beauties where particular from different aspects. Their civilization embodied beauty and liberty of the mind and the body. The position women occupied in the Minoan civilization was peculiar and unique in the world. Those ancient beauties knew the secret formula of a beautiful skin. If you look at frescoes of this civilization you will notice that men were painted in a red nuance while women were painted in white. As an example we have the two most well known frescoes: "The prince of the Lilies" and "La Parisienne" or "The Minoan lady". Men could have tanned skin while the woman's skin was considered beautiful and well cared only if it was white, fresh and glossy. Don't forget that Crete is the biggest Greek island and the most south with the largest number of sunny days during the year. You will agree that those women's mission to keep a white complexion wasn't easy at all.
"Princ sa ljiljanima" freska iz palate u Knososu / «Le prince aux fleurs de lys» fresque du palais de Knossos / "The prince of the lilies" from the Knossos palace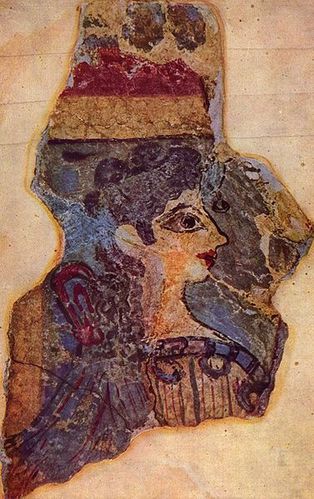 "Mala Parižanka" freska sa Knososa / "La Parisienne" fresque de Knossos / "La Parisienne" fresco from Knossos
U ovom videu, možete videti kako da napravite prirodni body scrub koristeći maslinovo ulje, nekoliko kapi eteričnog ulja lavande i šećer.
Prirodni body scrub koristi se jednom nedeljno tako što mokru kožu tela nežno istrljajte body scrubom, zatim se istuširajte toplom vodom i obrišite telo mokrim peškirom. Body scrub skida mrtve ćelije sa kože, dubinski je čisti, hidrira i regeneriše.
Nedostupno nam je korišćenje minojske metode kupanja u maslinovom ulju, ali lepotu kože tela možemo negovati i body scrubom.
Moje dame, uživajte u lepotama svog kućnog SPA centra, budite mi lepe, zdrave i negovane.
UŽIVAJTE, VIDIMO SE -)))
Dans cette vidéo vous pouvez voir comment préparer un produit d'esquamant (body scrub) naturel en utilisant de l'huile d'olive, quelques gouttes d'essence de lavande et du sucre.
Le body scrub naturel s'utilise une fois par semaine de la façon suivante: appliquez le body scrub sur la peau humide et massez, ensuite douchez-vous avec de l'eau chaude et essuyez-vous le corp avec une serviette humide. Le body scrub élimine les cellules mortes de la peau, la nettoie en profondeur, l'hydrate et le régénère.
La méthode minoene du bain dans de l'huile d'olive nous est difficilement accesible mais nous pouvons entretenir la beauté de la peau du corp en utilisant le body scrub.
Mesdames, profitez des bienfaits de votre SPA maison, soyez belle, en bonne santé et au mieux de vous-même.
PROFITEZ-EN ET A BIENTOT -)))
In this video you can learn how to make a natural body scrub by using olive oil, several drops of lavender essence and some sugar.
Use the natural body scrub once a week as follows: apply on wet skin and massage , then shower with hot water and wipe the body with a wet towel. The body scrub get rid of skin dead cells, clean it deeply, moisturize it and regenerate it.
The Minoan method of taking a bath of olive oil is difficult to access but we can look after the beauty of the skin of our body by using the body scrub.
Ladies, enjoy the magic of your home SPA, be beautiful, be healthy and at your best.
SEE YOU SOON -)))